Turn up the heat
It's a workout like you've never experienced! Yoga fused with fitness in FAR Infrared heat. It's detoxifying, purifying and you can try your first week under $20
OPEN A STUDIO IN YOUR CITY
Welcome to your new yoga class, where you are welcomed into the OYF community no matter what you experience level is. With over 16 different class styles including traditional yoga styles, yoga & fitness blend, and fitness fusion- we promise that you won't get bored of your routine.
We've got over 100 locations across North America all with our detoxifying FAR Infrared heat.  Find your home studio and book your first week for less than $20

SIGN UP FOR AN INTRODUCTORY OFFER, Book Classes and more!
Get The Oxygen App, Sign up at your nearest studio and manage your fitness from your phone.
GET THE APP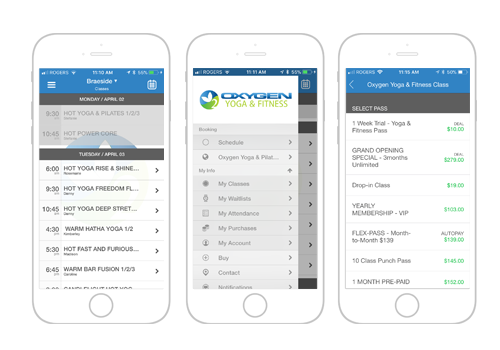 Data Safety for Peace of Mind.
Keeping your data safe, private and readily accessible are our priorities, and the priorities of  the software that we use, Mindbody. Mindbody secures your data at every layer.  Their cybersecurity program aligns with CIS CSC and the NIST Cybersecurity Framework, and Mindbody is HITRUST CSF and PCI DSS Level 1 service provider certified.