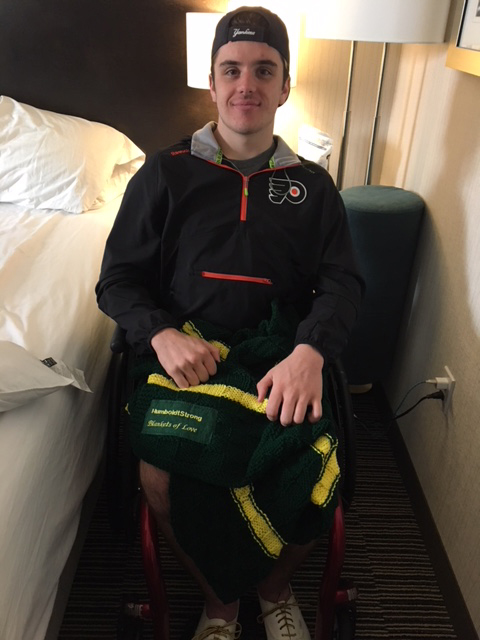 Sometimes Hero's come in unexpected packages.
After the April 6th, 2018 Humboldt tragedy, we saw heroism in all shapes and sizes. We saw Heros emerge in the survivors of the tragedy, the families of those who lost their lives that day and also in strangers, those people so moved by that terrible event that they had to take action.
Debbie Veylourens is one of those people; and she just so happens to be part of our Oxygen family too.
Debbie and two friends crotched 34 blankets to present to the families and the survivors of the accident – to honour them and to "wrap them in blankets of love". Half of the blankets are yellow with green borders and the other half are green with yellow borders to distinguish the young men who survived and the families that lost loved ones. Oxygen Yoga & Fitness also provided a One Month Unlimited pass to each of the blanket recipients with the hope and the intention that they could come to the studio and take care of themselves; and just maybe…find some Peace on the mat.
Debbie and her partner travelled by car to Alberta and Saskatchewan last month to distribute the blankets and passes to the families. During their travels, they stopped and practiced at our Sage Hills and Linden Ridge locations. Debbie sent us this message after her trip "The visits to Oxygen yoga are very much appreciated. Our trip was a lot of car travel and sometimes very stressful. The yoga sessions helped restore our tired and stressed bodies. Thank you again! ".
We are so honoured to have been a part of this journey.
Debbie graciously shared some photos of her journey, including her presentation of one of the blankest to a young man named Ryan Strashnitzky, who was Debbie's inspiration for the blanket making.
Ryan is an amazing young man who has not let this tragedy slow him down and has thrown himself into rehabilitation and physio since the accident left him paralyzed from the chest down.
According to an article in the Star Calgary newspaper that reported "Despite the drastic changes – his home's renos, camping out in a hotel for the next few months, using only his upper body for mobility — he's upbeat and positive, in part because of the support he has been getting since returning home." Ryan has remained optimistic and is a true inspiration.
All of the trees, in and out of Humboldt are tied with green and yellow ribbons and over 6000 blankets have been donated and are destined for those involved, there were over 1200 first responders at the scene that day, and each will receive a quilt. There are numerous quilts on display at the Humboldt arena.
From Oxygen Yoga & Fitness to everyone who has come together after this terrible tragedy to bring light and love…we thank you!
And Thank you Debbie for being our "Humboldt Hero"