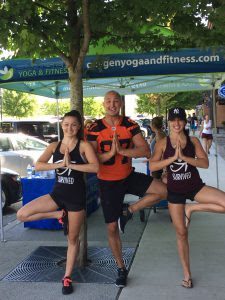 A new Langley fitness studio is getting ready to open! We are excited to welcome Oxygen Yoga & Fitness to Willoughby Town Centre in the fall, and we know by the response that we have received that the community is also happy that they have decided to open another location in Langley.
The team that brought you Oxygen Yoga & Fitness Langley, including Lori (the owner), Samantha & Haley and their dedicated professional instructors are ready to join our community. This family run business welcomes new and current clients to join them at their new location and become part of their family.
When we spoke with Lori she shared that their mission is to create a place where you can discover your own greatest potential, by creating a safe comfortable, non-competitive environment supported by a team that is inspired by a warm community of like-minded individuals!
Pre-opening specials are now available. Get started at Oxygen Yoga & Fitness is Willoughby with an early bird special: $65 for one month of classes. Or register a profile and get ready for Karma Week, a week of free classes!