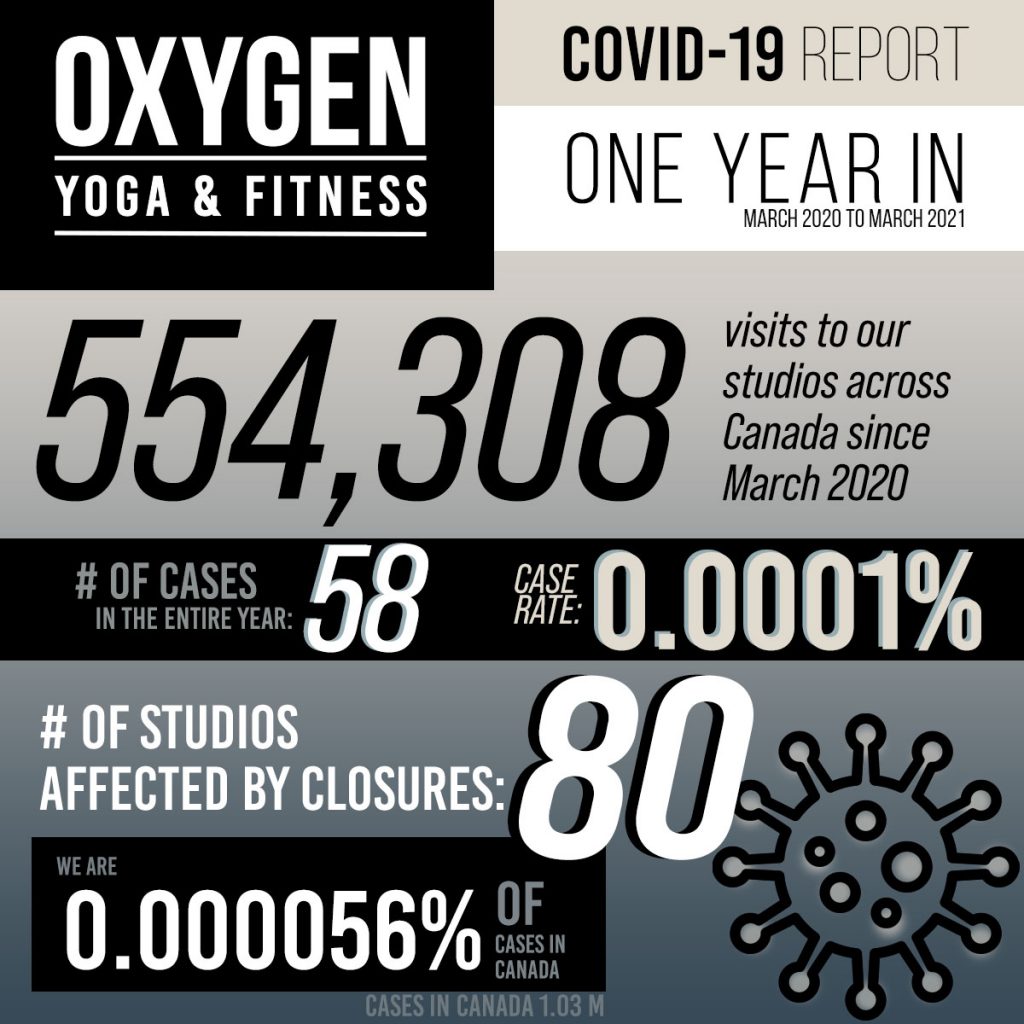 Our entire Oxygen Yoga & Fitness team would to thank each and every one of our members who continued to support us throughout the many closures that have taken place over the past year.  Whether you came to the studio, took a live class on Facebook, continued with live classes at your studio or joined us in our new On Demand, we are so grateful for your continued patronage. 
With a third wave of the pandemic upon us we wanted to be transparent with our members about our experience with COVID-19.  Indoor group fitness has and continues to be a highly restricted activity, and while the restrictions vary from region to region,  they are consistently imposed every time provincial cases begin to peak. This is something that the entire industry is experiencing together. It is not easy.  But we persevere. 
Oxygen adheres strictly to the restrictions, and since pandemic-day-one we made a commitment to staff & member safety. Our priority is prevention of transmission, and we continue to focus on the many COVID-19 precautions we keep in place, and we pivot with each new provincial regulation, ensuring our studios are all doing exactly what is required. 
At OYF, we made a decision that it's time to be transparent with our data. We've had  0.0001% case rate during the past year.  With 80 studios adversely affected by closures, we continued to have half a million visits and 58 cases. 
Thank you members for doing your part in keeping our cases within our fitness studios low. While we can put in protocols, COVID-19 prevention is very much a team effort and our members are a part of that team. 
Every region in Canada has experienced their own version of the pandemic, but regardless of the differences one thing remains the same. This is an historic event that has caused grief & loss for many families across our nation. We extend our deepest condolences to those who have endured immeasurable loss during the pandemic.